Pawnee Nation Elder Center is located west of the Pawnee Nation Round House.
901 Agency Road, Pawnee Oklahoma 74058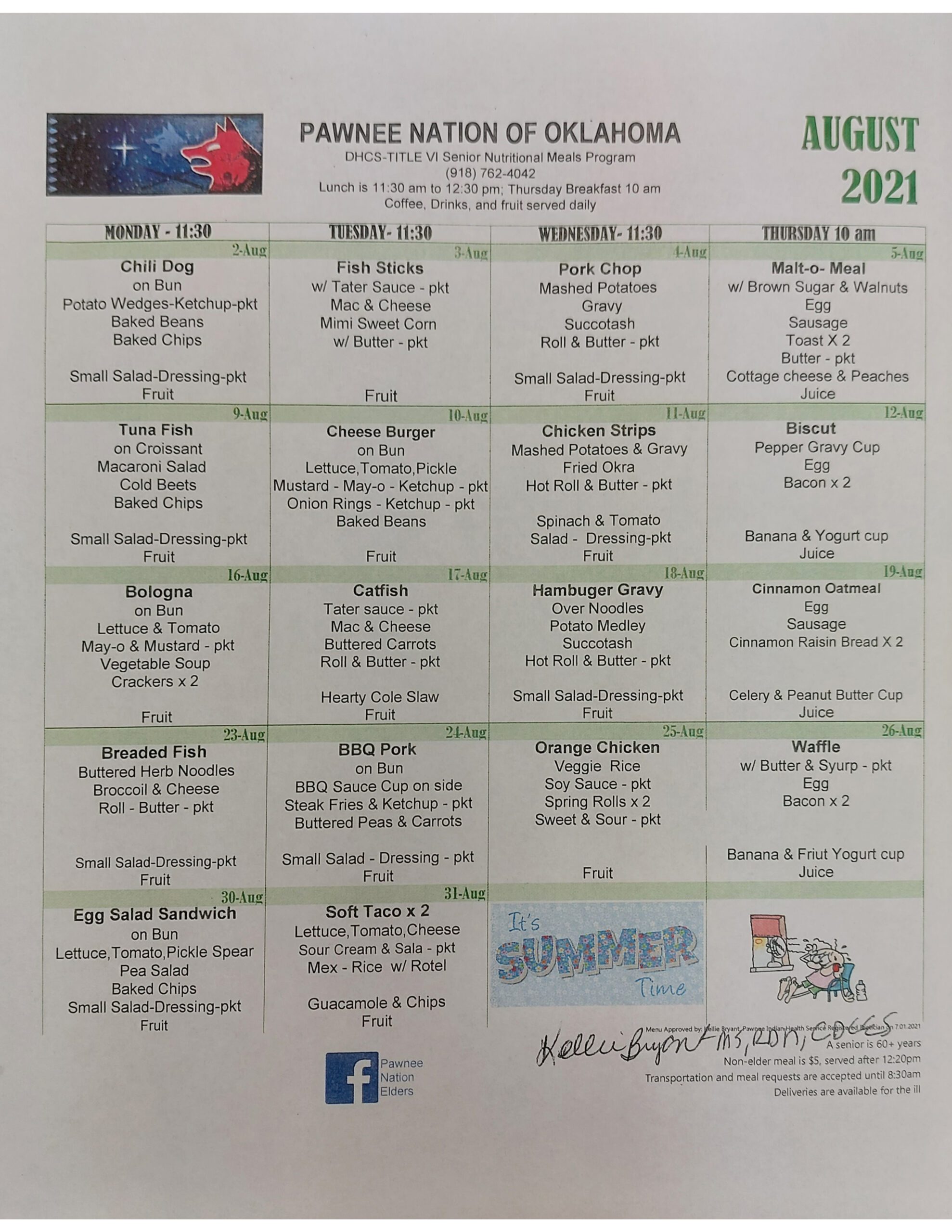 Program Overview
The Title VI Part-A Senior Nutritional Meals/Supportive Services and Title VI Part-C Caregiver Outreach Program promotes the delivery of supportive and nutritional services for Native American Elders that are comparable to services provided under the Title III of the Older Americans Act.
Title VI Purpose
The Title VI Pawnee Nation Elders Program serves eligible elders, disabled, spouses of elders, and caregivers by delivering nutritional meals to the homebound and at the congregate sites; and provides information/support to non-paid caregivers of our fragile elders.
In addition, Title VI staff works with volunteers in planning and assisting with activities that may be planned in conjunction with other tribal programs. Target activities:
·      Intergenerational,
·      Foster Grandparent Program,
·      Peer Socialization,
·      Enhancement to improve the quality and neurological well-being of elders (i.e. Games, Group activities, self-improvement, Service to the Elder Community, Service to the entire community, Fund Raising, and Special Occasions).
Who is eligible?
This includes spouses; individuals providing volunteer services during meal hours, non-elderly handicapped or disabled who reside at home with and accompany elderly people, or who reside in housing facilities occupied primarily by the elderly.
Care Giver Program:
Specific program services required include the following purposes:
• Information to caregivers about available services;
• Assistance to caregivers in gaining access to the services;
• Individual counseling, organization of support groups, and caregiver training to assist the caregivers in the areas of health, nutrition, and financial literacy, and in making decisions and solving problems relating to their caregiving roles;
• Respite care to enable caregivers to be temporarily relieved from their caregiving responsibilities; and
• Supplemental services, on a limited basis, to complement the care provided by caregivers
In addition to the required services, the 2005 Amendments to the OAA require the programs to use trained volunteers to expand the required services. Volunteers are welcome and appreciated!
Danielle Wheatley
Title VI Elderly Meals Coordinator
901 Agency Road, Pawnee Oklahoma 74058
(918) 762-3621 ext. 184
mailing address: 
Pawnee Nation of Oklahoma
P.O. Box 470
Pawnee, OK 74058
Like us on Facebook - https://www.facebook.com/PawneeNationElders

Check out the Title VI new umbrella tables! Chair will be coming soon. Now, the Elders can enjoy the outside while eating the meals!