Divisions - Cultural Resources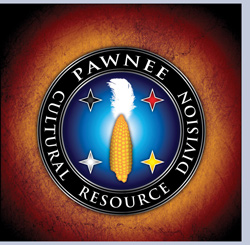 Mission Statement: " To promote and preserve our Pawnee Culture through our language, songs, ceremonies, and our oral and written history."
---
In 2016, the Pawnee Nation created its Cultural Resource Division (CRD). The CRD Division houses our Language Program, our Tribal Historic Preservation Office (THPO), our Native American Graves Repatriation Act (NAGPRA), and our Pawnee Nation Museum, located in downtown Pawnee at 657 Harrison Street, Pawnee, Oklahoma 74058. CRD has a Cultural Committee that meets monthly, and they act as advisors for CRD. We also have a Museum Board which meets quarterly.
Some of the events and activities we have include our weekly community language classes, weekly community culture classes. We sponsor the making of Pawnee clothing and craft items, singing classes, handgames, our Pawnee/Arikara Reunion, Chief Day, Full Blood Day, and assist with our annual homecoming and annual dances and ceremonies.
Please feel free to call our office to assist with any cultural questions you may have.
Cultural Resource Division
657 Harrison Street, Pawnee, OK 74058
Phone: (918) 762-3621
Herb Adson, Pawnee Nation CRD Director
email: hadson@pawneenation.org
(918) 762-3621 Ext. 222
Vacant, CRD Cultural Coordinator
email: AS0601@pawneenation.org
(918) 762-3621 Ext.221
Native American Graves Protection and Repatriation Act
Marti Only A Chief, NAGPRA Coordinator
email: monlyachief@pawneenation.org
(918) 762-3621 Ext.223
Pawnee Nation Historic Preservation Office
Matt Reed, THPO Officer
email: jreed@pawneenation.org
(918) 762-3621 Ext. 220
Zac Rice, Language Instructor
Taylor Moore, Language Instructor