The Pawnee Nation Flag has been lowered for the passing of Tribal Member Russell Lloyd Tiger
The Pawnee Nation Flag has been lowered for the passing of Tribal Member Russell Lloyd Tiger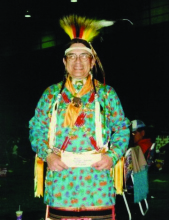 October 12, 1954 – February 25, 2021
Russell Lloyd Tiger, known to all as "Rusty," passed from this life on Thursday, February 25, 2021, at his home place, in Cushing, Oklahoma, having reached the age of 66. Rusty was born at the Claremore Indian Hospital, the only son to Lloyd and Patricia (Lone Chief) Tiger. He was raised in Tulsa, Oklahoma, graduating from Will Rogers High School in 1972. After going through the Upward Bound Program at the University of Tulsa, he attended two years of college at Colorado University in Boulder. He was married to Cathy Wamego and began a family, having a son and daughter. He worked many years as an emergency room tech at St. Francis Hospital, Tulsa. Making a career change, he then attended th􀀡e Spartan School of Aeronautics in Tulsa, earning a degree in Avionics. A few years later, he re-married, making his home in Dallas and then Garland, Texas, with Wonzie Klinekole. He started a career working for Solar Turbines in Texas. After deciding on early retirement, he made his home in Cushing, OK.
Rusty is survived by his children, daughter Echo Tiger Adair, son Orion (Rion) Tiger and their mother Cathy Wamego, sisters Patty Beaston and Renata Tiger, both of Tulsa. Grandchildren Dominic Jaiden Hawk Tiger-Hamilton, Dmitrius Jordan Young Bird Tiger-Hamilton, Drake Jaxxon Lone Chief Adair, and Riland Tiger. Uncles, Charles "Buddy" Lone Chief, and Juan Arbazza; aunts, Marlene (Lone Chief) Kent, Yvonne Goodeagle, and Dorothy Tiger. Brother-in-law, Karl Beaston. He leaves behind a host of nieces, nephews, cousins, extended family, and many other relatives.
Rusty was very proud of his tribal heritage and did his best to follow his traditional and ceremonial ways. He was an enrolled member of the Pawnee Nation, Skicli Band, Pumpkin Vine Clan. He was head of the Eagle Clan of the Sac and Fox Nation.
He was preceded in death by his parents, Lloyd and Patricia (Lone Chief) Tiger, infant daughter Tiffany Nicole Tiger, infant granddaughter Ava Morning Star Adair. Grandparents Elba Tiger (Yuchi), Florence (Conger) Tiger, (Sac and Fox), Charles C. Lone Chief, Mae Hazel (Wright) Lone Chief, and two uncles, Jack Tiger and Herschel Tiger. Through a Sac and Fox traditional adoption ceremony, he became a father to two daughters, Rachel and Raenell Riley, Shawnee, OK. His maternal Skidi great-grandmother was Jennie Lone Chief and Skidi great-great-grandmother Skura Hau' (Howell). A great grandmother Nora (Doran) Wright. His paternal Skidi grandfather was Charles C. Lone Chief, Skidi great grandfather Lone Chief, Skidi great-great-grandfather Comanche Chief, and great-great-grandfather David J. Wright.
Rusty loved participating and dancing at all the powwows in and around Oklahoma. He was a Straight dancer and also a Grass dancer. He had the honor of serving many times as a headman dancer and as a head gourd dancer. In his younger years, he also loved the rodeo arena and would ride saddle bronc and was a member of the Tulsa Indian Youth Council and serve as a past president of the council. He was also a horse wrangler for the Westside YMCA. Being part of a dance troupe, he had the opportunity to travel to Europe performing native dances and expressing the native traditional ways and customs. In one of his travels to Germany, as being part of a dance troupe, he received a certificate of Appreciation from the Reunification of Germany and the East-West Powwow event in 1999. In November 2020, he was a recipient of a plaque in
"Recognition of Appreciation from the 16 Corps Support, U.S. Army, Europe, and Seventh Army" for outstanding support during the Native American Indian Heritage Month Observance. Lastly, receiving a certificate of appreciation from the area support Group Falcon, Camp Bonds Teel, Kosovo, for exceptional performance of tribal dances, which was expressed from the group for their contribution to the "Morale and
Welfare" of the Task Force Falcon soldiers and civilians deployed.
Russell Lloyd Tiger's family wishes to thank everyone for their support, their heartfelt condolences, the words of encouragement, help, and prayers.
Service was held Tuesday 8:00 A.M., March 2, 2021, at the Tiger Family Residence, Cushing, Oklahoma Officiating was Ira "Poncho" Fields
Pallbearers: John Sellers, Ira "Poncho" Fields, Monte Robedeaux, Robbie White, Dominic Tiger, Tommy "Tuffy'' Chaino.
Honorary Pallbearers: Dmitrius Tiger, Riland Tiger, Drake Adair.
Final Resting Place, Tiger Family Cemetery, Cushing, Oklahoma.
Arrangements by Poteet Funeral Home, Pawnee, OK