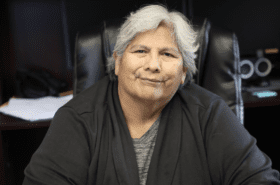 I am a full-blood member of the Pawnee Nation of Oklahoma and a graduate of Oklahoma State University with a BS in Education and is the current Executive Director for the Pawnee Nation.
Ms. Robedeaux has worked a total of 24 years for the Pawnee Nation, and has served the tribe in various capacities such as Education Director and Grants & Contracts Director, Administrative Affairs Director and Coordinator of several Indian Community Development Block Grants (ICDBG).  Ms. Robedeaux's expertise as a grant writer resulted in a language project, a planning grant for the development of a 10 year plan and several construction proposals that were funded.  
While working as a coordinator under some HUD contracts, this position not only required me to write the proposals for ICDBG projects, but once funded then I also administered the contract from planning through design and construction and close-out.  During this tenure as the ICDBG Coordinator, the proposals that were written and approved allowed the Pawnee Nation to receive approximately 8 million dollars of construction funds which has included funding resources such as HUD, EDA, USDA, DOE and Tribal.  The renovated facilities a total of 8 facilities of which 5 facilities required adherence to Historic Preservation Guidelines.  All four of the new facilities and one renovated facility have the geothermal HVAC mechanical system installed.  Prior to administering HUD projects, Ms. Robedeaux also coordinated the design and construction of an 18 million dollar Indian Health Center that was completed in 2004.  
While working as the Administrative Affairs Director, this position included the included administrative oversight of the Aid to Tribal Government Contract which included Enrollment and Communications and working with the Executive Director.  This position also was over the Information Technology Department and the Procurement Department.  Some of the activities in this position also included the review and revision of the tribal Fiscal Policies, Organizational Chart and working with the Finance Office on the development and negotiations of the Indirect Cost Proposals and annual Budget Call for the Pawnee Nation.
Being in the Executive Director position is allowing me to not only have administrative oversight of all of the programs for the Pawnee Nation, but also to look at the tribal organization from a global viewpoint and how all the programs can work towards an ultimate goal of providing services to the Pawnee People.  This position also provides an opportunity to work with the Pawnee Business Council and take their goals and priorities to the next level by working with the division directors and planners for future projects that will meet the current and future needs of the council. 
My family background includes being the daughter of Wadsworth (Bacon) Howell and Hilda Howell.  I was born and raised in Pawnee and graduated from Pawnee High School.  I eventually returned to Pawnee to raise my two daughters and continue to reside in Pawnee with an extended family, which now includes my dogs and cats.