Pawnee Nation Princess Committee Empowerment Scholarship, Spring 2023 Awards
Pawnee, Okla. – The Pawnee Nation Princess Committee announces their 2023 Spring semester recipients of the Pawnee Nation Princess Empowerment Scholarship.  The award of $300.00 was presented to Sara Llamas-Howell, Sky Seeing Leading Fox, and Montana Snell.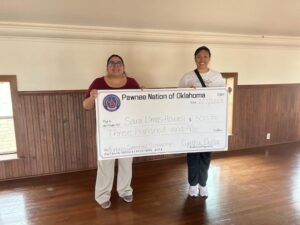 Ms. Llamas-Howell is a proud member of the Pitahawirata Band, past Pawnee Nation Princess (2019), currently a senior at Rogers State University (Claremore, OK) and majoring in Allied Health.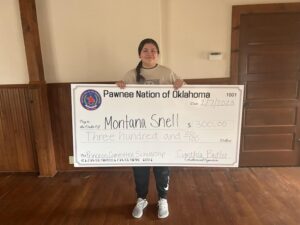 Ms. Montana Snell is a proud member of the Skidi band, a senior at Oklahoma State University (Stillwater, OK) and majoring in Biology with a minor in Microbiology.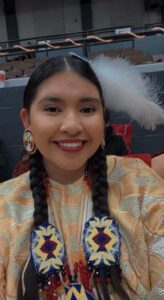 Ms. Sky Seeing Leading Fox is a proud member of the Skidi band, past Pawnee Tribal/Expo Princess (2015-2016), currently a freshman at Haskell University (Lawrence, KS), and majoring in Community Health.
"All three of these young ladies have represented their tribe in many capacities.  When the Committee sat to review their applications and essays, it was hard to make just two selections," says Princess Committee member and Secretary, Lisa Gooday.  "We opened this scholarship up to all Pawnee women and focused on women empowerment.  Each essay reflected the strength and integrity of each young lady and the Committee chose to award all three applicants.  They are going to be strong Pawnee women and we look forward to see them prosper and flourish."
Committee Chair, Councilwoman Cynthia Butler added, "What an honor to see our young Pawnee women further their education and represent the Pawnee Nation.  Their goals and ambitions are inspiring and we cannot wait to see their accomplishments.  They are all three future leaders in their field of study.  What a great group of young women to award these scholarships to."
The Princess Committee congratulates Ms. Llamas-Howell, Ms. Leading Fox and Ms. Snell on their scholarship award and wish all three young ladies' good luck this spring semester.
For more information on the Princess Scholarship opportunities, or other Pawnee Business Council Committee Scholarships available, please visit the Pawnee Nation's website at www.pawneenation.org/scholarship-opportunities/.