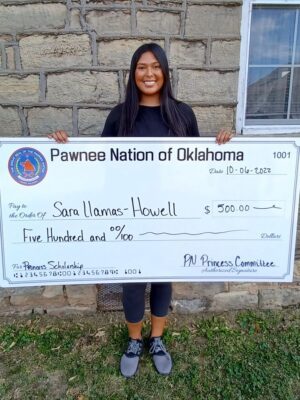 Pawnee Nation Princess Committee Fall 2022 Scholarship Award
Pawnee, Okla. – The Pawnee Nation Princess Committee announces their 2022 Fall semester recipient of the Pawnee Princess Scholarship.  The award of $500.00 was presented to Ms. Sara Llamas-Howell.
Ms. Llamas-Howell is a Pawnee Tribal member, proud member of the Pitahawirata Band and past Pawnee Nation Princess (2019), currently a senior at Rogers State University (Claremore, OK) and is majoring in Allied Health.
"Our committee is excited to be able to award this scholarship to Ms. Llamas-Howell who has represented the Pawnee Nation as Pawnee Nation Princess and continues to represent us through furthering her education.", says Councilwoman Cynthia Butler, who is the Chairperson of the Committee. "We look forward to being able to award more scholarships like this in the future". The Princess Committee is very active in raising scholarship funds and other funding for Princess activities.  Jamie Nelson, PN Princess Committee Treasurer mentions, "What's different about this scholarship award is that it is given directly to the student, allowing the student to utilize the award for other costs associated with attending college."
The Princess Committee congratulates Ms. Llamas-Howell and wishes her good luck this fall semester.
For more information on the Princess Scholarship opportunities, or other Pawnee Business Council Committee Scholarships available, please visit the Pawnee Nation's website at www.pawneenation.org/scholarship-opportunities/.