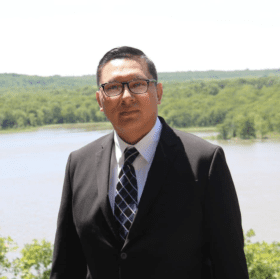 Mr. Kanuho is a member of the Kitkehahki, Pitahawirata, and Chaui bands.  The son of David and Suzanne Jim Kanuho and the grandson of James and Wanda Goodfox Kanuho and the late Jennie Jim.  The great-grandson of the late Lawrence Sr. and Flora Lewis Goodfox and Phillip and Ella Pratt Jim.
Mr. Kanuho was elected in 2020 to fill the remainder of the Vice Presidential term.  He currently chairs the Agriculture Committee, Communications and IT Committee, Planning Committee, and sits on the Cultural Committee.
Mr. Kanuho has been married to wife, Amanda Kanuho, since 2005 and they currently reside in Tulsa, OK.  He has pastored his church in Okmulgee, OK since 2017.  He enjoys spending time with his family, golfing, and hunting.