April 1, 2021 – Pawnee Nation of Oklahoma New Fire Truck – Press Release
April 1, 2021 – Pawnee Nation of Oklahoma New Fire Truck – Press Release
PRESS RELEASE
For Immediate Release
For more information, contact:
Pawnee Nation
Phone: (918)762-3621
Fax: (918)762-6446
mrobedeaux@pawneenation.org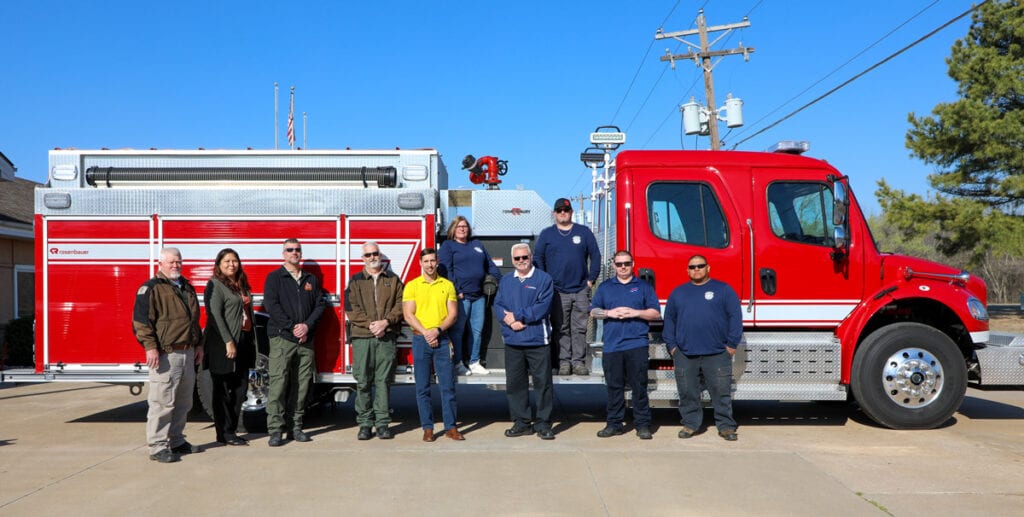 Pawnee, Okla. – April 1, 2021, Pawnee Nation's New Fire Truck. Pawnee Nation's Division of Planning & Tribal Development, through the coordinated efforts with the Division of Natural Resources and Safety (DNRS); was able to procure funds provided by the Housing & Urban Development (HUD), Indian Community Development Block Grant (ICDBG) Coronavirus Aid Relief, and Economic Security (CARES). Through the "Pawnee Nation Care Project" the Pawnee Nation Fire Department (PNFD) was able to purchase a new 2020 Rosenbauer Fire Apparatus from DACO Fire Equipment. This new addition will not only replace the antiquated 1973 Ford 900 HazMat Response apparatus but will also provide a much safer experience for the first respond team and the community when addressing emergency calls during times of the COVID-19 Pandemic or future pandemics.
The PNFD accepted delivery of the new Fire Truck on April 1, 2021. Through the collaborative effort of the Pawnee Nation programs, the community wins. "This was a unique funding opportunity provided by HUD, through ICDBG-CARES to allow the purchase of equipment, it not only benefits the Pawnee Nation but all communities within Pawnee County" Reva Howell, Planning & Development Manager "The apparatus is out fitted with the needed equipment to keep our responders safe while managing multiple types of emergencies, where the responder may encounter COVID-19 virus" Chris McCray, PNFD.
For more information, contact the Pawnee Nation Planning Office at 918.762.3621.